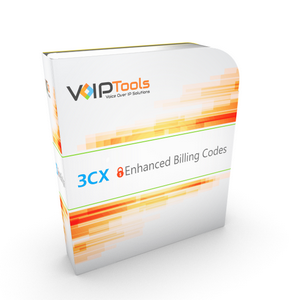 3CX Enhanced Billing Codes
You want 3CX Enhanced Billing Codes if you need to...
Bill for your time
Charge back for call costs to a department
Place restrictions on permitted calls
Increase security
Monitor telecom costs

3CX allows you to optionally assign an account when you place a call, but there is no verification that the account number exists or was typed correctly. If you forget to enter the account code before the call is placed, there is no way to assign an account to the call.

How it works
3CX Enhanced Billing Codes enforces the use of billing codes for configured outbound call types. To place a call:
You dial 8 for prompted or 9 for minimal prompts
You are prompted for a billing code and the number to be dialed
The billing code is verified against a database of valid account codes
The phone number to be dialed is compared to any account code restrictions
After validation the call is placed automatically
The call is logged in a database for reporting

Note: The short-cut option eliminates the prompts for faster dialing. Dial '9' and wait for the "beep" then dial your account code and phone number using the syntax <account_code>**<phone_number># For example: 12345**8016424655#

Charge Back Call Costs
Whether you are an attorney, consultant, or simply want to track the cost of calls by department, 3CX Enhanced Billing Codes enables you to keep track of outbound calls. You can even pre-assign a cost for each outbound call by country, area code, or even down to specific phone numbers. Reports will automatically calculate the duration and costs of calls greatly simplifying the invoicing/chargeback process.

Restrict Calls
Account Codes can also define restrictions on the types of calls permitted. For example, one account code could be used for a lobby phone to only permit calls to specific extensions. Another account code may restrict international calls to specific countries or specific phone numbers within that country.
Account code restrictions will block calls if the phone number dialed is less than the minimum or more than the maximum number of permitted digits, or block calls starting with digits that match a list of specified prefixes (separated by a comma). A list of prefixes could include something like 801,004,920988.

Increase Security
3CX Enhanced Billing Codes provides greater security. While 3CX can help restrict international calls by extension, if someone (cleaning crew for example) can gain access to the phone (extension) they can make unauthorized calls. With 3CX Enhanced Billing Codes you add an additional layer of security by also requiring an account code. Now security restrictions are not limited to extensions only.

Monitor Costs
With 3CX Enhanced Billing Codes you now have greater visibility into the source of your telecom costs. Your outbound calls are logged automatically, enabling you can run enhanced billing code reports by account code, department, extension, date range and more. knowing the source of telecom costs makes it possible to easily manage your costs.
Requirements
3CX Versions 12-14
Windows (64bit) 7, 8, 8.1, 10, 2008 R2, 2012, 2012 R2
.Net 4.5 or above
Microsoft SQL Server 2008 or above (including the free Express)
Microsoft Internet Invormation Server
VoIPToys License Key